What is a SME?
A Subject-Matter Expert (SME) is a person who possesses the knowledge and expertise in a specific area of specialization. SMEs are vital to the creation and revision of test items.
Who is a SME?
In Career Technical Education End-of-Course test development, SMEs are Ohio's secondary and post-secondary instructors and representatives from business and government who possess the expertise needed in a particular area. A SME could be a first year instructor or individual in the field or a person who is near retirement. All levels of expertise are welcome and encouraged.
What do SMEs do?
In test development, SMEs identify the content domain, write test items linked to content, review and edit test items, and provide judgments used in setting performance standards.
The SME is Key™ when it comes to the creation and revision of tests. SMEs possess the knowledge and expertise needed to develop the test content, review the test content, and provide judgments about the quality of the test. Our role is to provide trained facilitators who will guide SMEs in writing and reviewing test items in order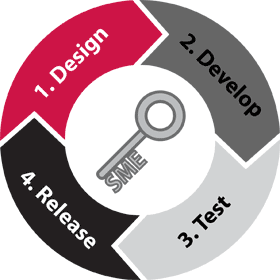 to create high quality tests.
SME Responsibilities in Item-Writing and Validation Workshops
Participate in distance orientation
Write test items
Review test items for content correctness
Review test items for quality and linkage to content standards
Provide judgments used in establishing performance standards
Network with professionals and develop relationships
Individual Reviewers
SMEs are needed in specific content areas to provide judgments on tests already written and validated by other SMEs. Judgments are needed for validation and setting performance standards for these tests currently being field tested.
To apply, please visit and complete the registration survey. Upon completion of the survey, a CETE recruiter will follow up with you via email.
For more information, please contact CETE recruiting.